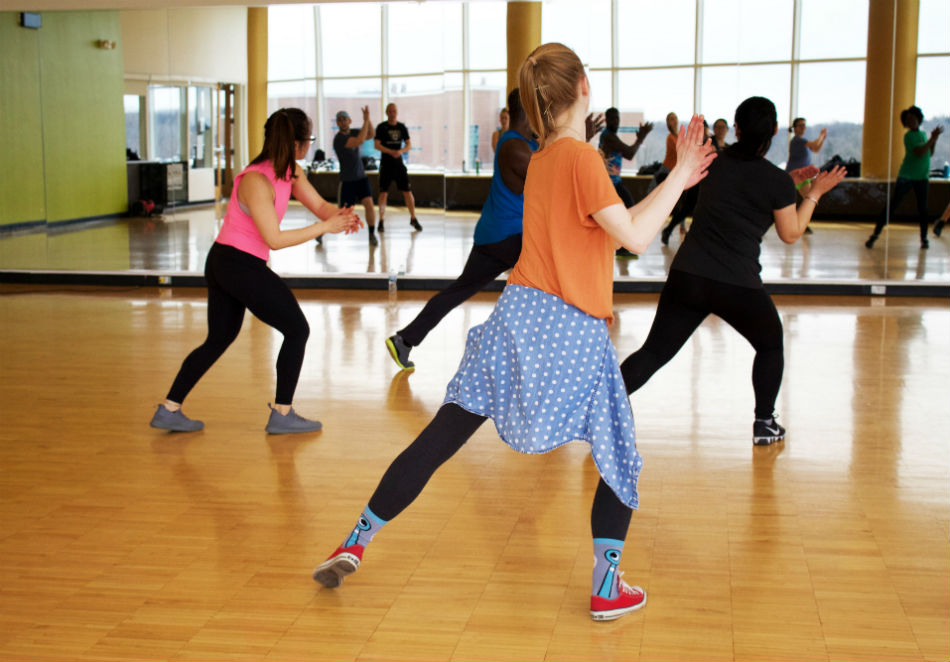 Zumba. You'll find it heavily seasoning just about any gym group class schedule, often available during traditional salsa "off hours" like early morning and at noon, making it seem like the perfect complement to your evening salsa class practices. Zumba has some elements of Latin dance, including salsa, but was designed to be a fun, cardio-driven group exercise class that you don't need a partner to enjoy. Some hardcore salsa lovers say that zumba can be a great way to work on flair, strength, flexibility and choreography that will better your salsa practice—while others say it can hinder it! There's no definitive answer and, maddeningly, the only real answer is, "It depends."
Zumba can help your salsa practice if you're good at keeping your classes separate in your head and your practice. For example, getting more physically fit and having better endurance, balance, flexibility and rhythm are all key for being a better salsa dancer. However, if you hear your zumba instructor's cues in your head while at salsa class, or mix up some hip-hop infused choreography when you're supposed to be leading your salsa partner in a tricky combination, zumba can be a hindrance.
Should you keep going to that zumba class you love? If you've never tried it before, should you give it a shot? There are potential pros and cons, but ultimately only you can decide.
The Upside of Zumba
A lot of people are madly in love with zumba and with good reason. It feels like you're not working out at all, but it can burn incredible calories. The repetitive, relatively easy choreography can have a lot of Latin infusion, too. How much Latin dance there may be depends on the instructor, how interested they are in salsa, and how experienced they are. You can find zumba classes with no salsa flavor at all, and you can find some that are basically solo salsa classes. Shop around, try out different instructors, and if possible stick to the ones who have a background in Latin dance.
For those new to salsa, a zumba class can help you gain confidence as a dancer. You can learn unique ways of creating your own signature type of flair, and if keeping the beat/rhythm is a challenge for you, zumba can be a great place to get stronger in this area. You might also meet Latin dancers in class who can give you tips on the best studios, local dance clubs, and the salsa scene. For newbies, zumba classes (the right ones!) are a fantastic complement to the local salsa scene.
On the Other Hand …
Some people have a very difficult time keeping different skill sets separated. It's important that when you're in salsa class, you don't let too much of your zumba practice spill over. Some people easily confuse what they learn in zumba and salsa, ending up with a mish mash that's not 100 percent zumba or salsa. This can be frustrating for everyone including you, your partners and your instructor. Plus, some zumba classes can get dangerously close to solo salsa work, but without traditional salsa "rules."
Too much zumba (or any cardio!) can also make you too tired to give it your all when your evening salsa class rolls around. If possible, stick to just one cardio session per day, with one day per week earmarked as a total rest day. If you have a six o'clock salsa class, a noon zumba class, long run, tough spin class or any other largely cardio activity can deplete your energy levels well before your evening class. You need rest, a good diet, and well-planned complementary workout activities (including strength training and ideally yoga) to really get the most out of your salsa class.
Zumba: Yay or Nay
Give it a whirl if you're not already a zumba addict. However, keep in mind that a lot of dancers (no matter their level) end up preferring either solo or partner dancing. In this regard, zumba and salsa couldn't be more different. You'll probably start to favor one over the other fairly quickly. In this case, go with your gut. If it's partner dancing that you fall in love with, know that solo dancing is an important yet rare part of the dance. A workshop or clinic on solo work, led by a salsa instructor, is probably going to be a better fit for you than going to zumba on a regular basis.
However, also keep in mind that your preferences change over the years. Zumba can be a great way to shake things up! Should the time even come when you want a break from salsa, or move to an area where classes aren't available, zumba might be a fun substitute. Give it an honest try, and re-visit in a few years if it's not the right match at the moment. It might not have the same rich and long history as salsa, but there's a reason so many people flock to it.
Plus, who knows? You might be one of those dancers who finds that zumba and salsa is the perfect match for your practice.